khwab mein aag dekhne Ki Tabeer In urdu
Khwab Main Aag Dekhne ki Urdu Tabeer 2023 main
kya ap Jante hen Khwab Main AAG FIre Dekhna kesa hota he Aj ham aap ko btayen ge khwab main aag dekhte hen to uski tabeer ki bahut sari wajuhat hoti hen Khwab Main aag ki angeethi dekhne ki tabeer kya hogi ya khwab main aag bujhane ki tabeer kya hogi khwab mein aag dekhne ki bahut sari tabeers hoti hen khwab kis time ko dekha wo bhi dekhna parta he khwab main konse din ko dekha aur khwab soraj nikalne se kitne time pehle yaa baad main dekha us hisaab se khwab mein aag dekhne ki tabeer ka pata chalta he k yeh khwab jo dekha he uski tabeer exact kya hogi
ham aap ko 1 baat btana chahen ge kabhi bhi apna khwab kisi aise insan ko na btayen jo khwab ki tabeer btane ka ilm hi nahin rakha he ager wo koi utli seedhi tabeer karta he wo phir aap ko problem ho jaye gi.
Its next paragraph is down in Urdu and roman Urdu.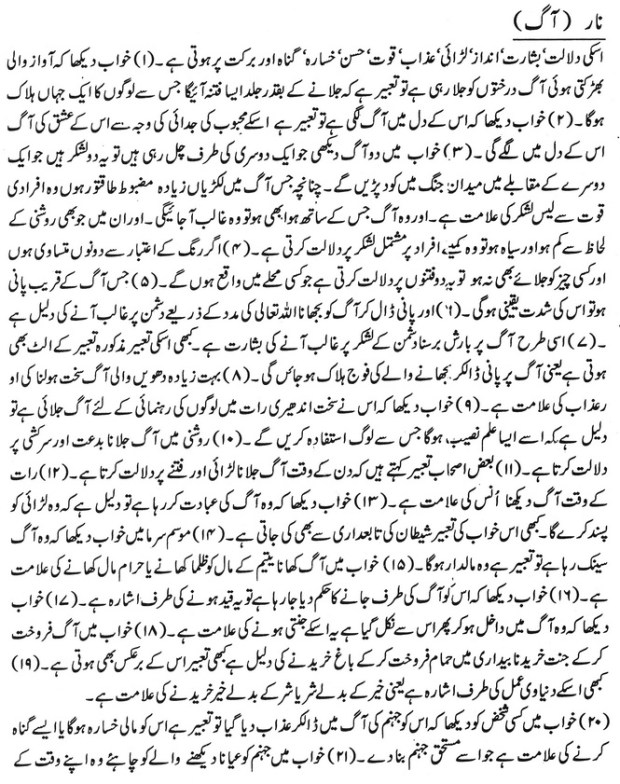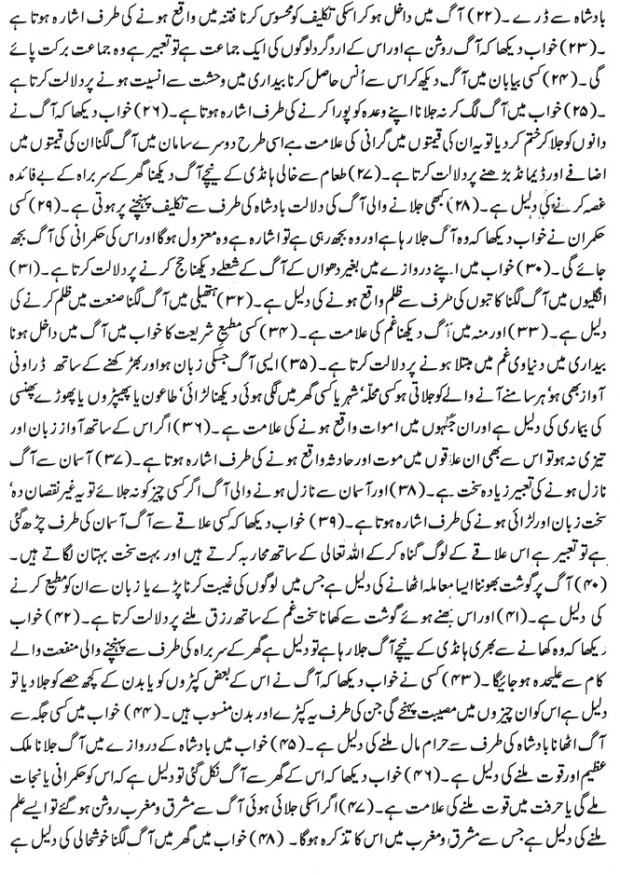 hazrat daniyaal ne farmaya agar khwab mein aag dekhna baghair dhuen k dekhe to daleel he badshah k kareeb hoga or usk bastaa kaam purey honge agar dekhe k kisi ne usko aag me gira k jalaya he to daleel he badshah us par zulm karega lekin jaldi khulasi paega or basharat o neki paega chunacha farmane HAQ TAA,LA he ham ne hukm diya k aey aag sard ho ja or ibrahim par salamti ho ja
agar khawab me dekhe k aag ne usko jalaya nhe to daleel he karaht k sath safar karega agar aag ko bharakta hua dekhe to daleel he bukhar se bemar hoga agar dekhe k aag ne usk jism ko jala diya he daleel he jalan k mutabik ranj milegaagar koi dekhe k usk ghar ko aag lagi hui he usk sarey jism ko jala diya he or bharakti he usk dil me us se khaof o dehsht nhe hui to daleel he usko mehnat o museebat k sabab bemari or kamzori aegi jese sardi, taaun, aabla, or sarkhd waghaira
agar dekhe k aag ko pakar liya he to daleel he usi qadar badshah se haraam maal ly ga agar dekhe k aag dhuwen dar he to daleel he usko maal e haraam mehnat o ranj se milega bahut sa jhagra dekhe ga agar dekhe k usko aag se garmi or tapash pahunchi he to daleel he koi shakhs uski gheebat karega
hazrat karmani ne farmaya agar koi dekhe k aag k sholey logon par dalta he to daleel he logon me adawat o dushmani dalega or agar saoda gar dekhe k uski dukan o saman ko aag lag gai he to daleel he uska saman barbad hoga ek dirham ki chiz 3 dirham me bechey ga kisi par rahem na krega
agar dekhe k kisi k ghar me aag lag gai he to daleel he wo admi jang fitna or badshsh k zulm me giraftaar hoga agar dekhe k aag ne uska kapra jala diya he daleel he apno k sath larry ga maal ki waja se ghmzda hoga agar koi bari aag zameen par dekhe to us maoza par fitna o jang hoga agar koi jalli hui chez dekhe daleel he aorton ki waja se logon k sath larre ga agar dekhe k kisi muhally, shaher , saray me aag lagi hui he sab kuch jala diya he aag sholey marti he awaz khofnak deti he daleel he us ilaqey me kaare zaar bemari parre gi
khwab mein aag dekhna
agar dekhe aag ne kuch chizen jala di hen kuch chor di hen or khaofnak awaz nhe thi to daleel he us area me larai hogi or sholay roshan nhe hen to sakht bemari parrey gi agar aag dhuwen k sath dekhe to to daleel he apne kaamo me darr dehshat dekhe ga agar dekhe kaag asman se girri he us hisse ko ya us shaher ko jala diya he daleel he us shaher ya muhally par fitna parrega agar dekhe k awaz khaofnak thi aag sholay marti thi lekin jis jaga parri sholay nhe marey daleel he us jaga zubani jaghra fasaad hoga
agar dekhe k zameen k neche se khaof nak aag nikli he aasman ki taraf gai he daleel he us jaga log ALLAH TAA,LA k piyaron k sathus aag ki takat k mutabik jhut or bohtaan k sath larai larren ge agar dekhe k be tahasha aag jaga ba jaga he or wo aag kuch takleef nahe deti daleel he sahib e khwab faida hasil karega agar darwesh he o maal dar hoga
khwab mein aag dekhna hazrat ash,as ne farmaya agar koi shakhs dekhe k aag asman ki taraf se barish ki tarha barasti he daleel he us jaga badshahon ki taraf se khunrezi or balaa aegi agar dekhe k asman ki taraf se aag aei he or usne khane peene ki chizon ko jala diya he daleel he uski ibadat HAQ TAALA k nazdeek kabul hogai he farmane HAQ TAA,LA he ( qurbani k usko khaey gi)agr dekhe k asman se aag a rahi he kisi chiz ko nahe jalati he HAQ TAALA k khaof ki daleel he farmae HAQ TAALAA he (aag ka azaab jisko tum jhutlate ho) or usko badshah ka khaof hoga agar dekhe k barri aag k sirrey par betha garm ho raha he to daleel he ek buzorg badshah h bahut qareeb hoga agar dekhe k aag par koi chez paka raha tha to daleel he deen o dunya ka shughul tamam hoga.
khwab mein aag dekhna
agar dekhe k aag zameen par utri he zameen ki sabzi ko jalati he daleel he us mulk me khuda na khuasta na gahani maot bahut aegi agar dekhe k ekbarri aag ne qubba o manara ko jala diya he to daleel he us jaga ka badshah marrey ga baz kehte hen agar koi dekhe k aag zameen se nikal kar roshan hui he daleel he us jaga khazana hoga
hazrat jafar ne farmaya agar dekhe k aag k tukre khata he daleel he yatimon ka maal khata he farmane HAQ TAALA he (jo log yatimon ka maal zulm se khate hen wo apne peton me aag khate hen wo jald hi dozakh me jaenge
agar dekhe k usk mun se aag nikalti he daleel he jhuti baat or bohtaan lagata he agar dekhe k har jaga aag jalti he daleel he raeeat o badshah k logon me aelchi ka kaam karega agar dekhe k usk pehlu me aag roshan he koi nuksan nahe karti to daleel he usko neki pahunche gi farmane HAQ TAA,LA he ( kya tum ne us aag ko dekha he jisko tum roshan karte ho)
agar dekhe k barri aag lakriyun ko jalati he to fitna o jang par daleel he farmane HAQ TAA,LA he (jab wo larai k liye aag bharkate hen)
agar dekhe k aag logon ko jalati he daleel he usko dushmano par fattah naseeb hogi agr dekhe k aag ne usko jala diya he or us me roshni na thi to daleel he marz e sarsaam se bemaar hoga agar us me noor dekhe to daleel he usk khaweshon o farzandon me ek bacha aega k log uski tareef krenge or us noor e aatish k barabr maal or buzargi paega agar rizmagah me aag dekhe to ye sakht bemari ki daleel he jese aabla , sartaan ,sarsaam,marg nagahani waghaira
khwab mein aag dekhna
agar aag dhuwen k sath dekhe to daleel he usko badshah se dar or khaof hoga agar aag ko bazaron me dekhe to ye bazar walon k be deni hone ki daleel he bazar waly tijarat me insaf nahe karte kharedi hui chizon me jhut bolte hen agar kisi mulk me aag lagi hui he daleel he wahan k log badshah k sath larte hen or us se riaaya par zulm hota he
agar a maloom mahene me aag dekhe to ye be dini ki alamat he agar kisi k kpron ko aag lagi hui dekhe to us par museebat dehsht o khaof parega agar apne aap ko aag me khra hua dekhe to daleel he usko ranj pahunchega
aag
iski dalallat basharat andaz larai azab quwwat husn khsara gunah or barkat par hoti he
khwab mein aag dekhna
1 dekha k awaz wali aag bharakti hui darakhton ko jala rahi he tabeer he jalane k baqadar aesa fitna aega jis se logon ka ek jahan halaak hoga
2 dekhe k usk dil me aag lagi hui he daleel he usk mehboob ki judai ki waja se usk ishq ki aag usk dil me lagegi
3 khawab me aag dekhi jo ek dusre me muntakil ho rahi hoto ye do lashkar hen jo ek dusre k mukably me jang e maidaan me kud parenge chunacha jis aag me lakriyan ziyada mazbut or takatwar hen wo afradi quwwat se less lashkar ki alamat he wo aag jisk sath hawa bhi ho wo ghalib aegi or un me jo bhi roshni k lihaz se kam ho or siyah ho to wo kamine afrad par mushtamil lashkar he.
4agar rang k hisab se dono mutsavi hon kisi chizko jalay bhi na ho to ye do fitno par dalallat karta he jo kisi muhally me waqey honge
5jisaag k kareeb pani hoto uski shiddat yaqeeni he
6pani dal kar aag bujhana ALLAH TAALA ki madad se dushman par ghalib aany ki daleel he
7isi trha aag par barish barasna dushman k lashkar par ghlib aany ki daleel he ya phir ullat bhi hota he yani k aag par panidal kar bujhanewaly ki faoj halak ho jaegi
8bahut ziyada dhuwen wali aag sakht holnaki or azab ki alamat he
9agar dekhe k sakht andheri raat me logon ki rehnumai k liya aag jalai he to daleel he aesa ilm hasil hoga jis se log istifada hasil krenge
10roshni me aag jalana biddat or sarkashi par dalallat karta he
11baaz kehte hen din k wakt aag jalana larai or fitne par dalallat karta he
12raat k wakt aag dekhna uns ki alamat he 13agar dekhe k aag ki puja ibadat kar raha he daleel he wo larai ko pasand karega kabhi iski tabeer shaitaan ki tabedari se bhi ki jati he 14 maosam sarma me dekha k wo aag senk raha he daleel he wo maaldar hoga 15khawab me aag khana yateem ka maal khane ya haraam maal khane ki daleel he 16 agar dekhe k usko aag ki taraf jane ka hukm diya ja raha he to ye qaid hone ki taraf ishara he 17 agar dekha k aag me dakhil hao kar phir nikal gaya he ye usk jannati hone ki nishani he
18aag farokht kar k jannat kharedna bedari me hamam farokht kar k bagh kharedne ki daleel he kabhi tabeer isk ullat bhi hoti he
19kabhi isk dunyavi amal ki taraf ishara he yani khair k bdlay shar or shar k badla khair kharedne ki alamat he
20khwab me kisi shakhs ko dekha k us ko jahanam ki aag me dal kar azab diya gaya to tabeer he us ko mali khasara hoga ya aese gunah karne ki alamat he jo use mustahiq e jahanam bana de
21khawab me jahanam ko ayana dekhne wale ko chahiye k badshahe waqt se darre
22aag me dakhil ho kar uski takleef ko mehsus karna fitna me waqey hone ki taraf ishara he
23khwab men dekha k aag roshan he aur us k ird gird logon ki aek jamat he to tabeer he wo jamat barkat paye gi
24kisi bayaban me aag dekh kar us se uns hasil karna bedari me wehshat se unsiyat hone par dalalat he
25khwab men aag lag kar na jalana apne wade ko pora karne ki taraf ishara he
26khwab dekha k aag ne daano ko jala kar khatm kr diya he to ye un ki qeematon me girani ki alamat he isi tarha doosre saman me aag lagna un ki qeematon me izafe aur demand barhne par dalalat he
27taam se khali handi k neeche aag dekhna ghar k sarbarah k be faida ghusa karne ki daleel he
28kabhi jalane wali aag ki tabeer badshah ki taraf se takleef punhchna he
29kisi hukmaran ne dekha k wo aag jala raha he aur wo bujh rahi he to ishara he wo mazool hoga aur us ki hukumarani ki aag bujh jaye gi
30khawab me apne ghar k darwaze k samne baghair dhuwen k aag k sholay dekhna hajj karne ki alamat he
31ungliyun me aag lagna katibon ki taraf se zulm waqey honey ki daleel he
32hatheli me aag lagna sannat me zulm karne ki daleel he
33 mun me aag dekhna gham ki daleel he 34kisi matee shareat khawab me aag me dakhil hona bedari me dunyavi gham me mubtla hone ki daleel he.
35 aesi aag jis ki zaban ho aur bharakne k sath draoni aawaz bhi ho ,har samne wale ko jalati ho kisi muhale ,sheher ya kisi ghar me lagi hui dekhna larai ,taaoon, ya phephron ya phore phansi ki beemari ki daleel he aur un jaghon me amwat waqe hone ki alamat he
36 agar us k sath aawaz zuban aur tezi na ho to us se bhi un ilaqon me maut aur hadsa waqe hone ki taraf ishara he
37 aasman se aag nazil hone ki tabeer zyada sakht he
38 aur aasman se nazil hone wali aag agar kisi cheez ko na jalaye to ye ghair nuqsan deh sakht zuban aur larai hone ka ishara he
39 khwab dekha k kisi ilaqe se aag aasman ki taraf charh gai he daleel he us ilaqe k log gunah kar k allah tala k sath muharba karte hen aur bahut sakht buhtan lagate hen
40 aag par gosht bhoonna aesa muamla uthane ki daleel he jis me logon ki gheebat karna pare ya zaban se unko mutee karne ka ishara he
41us bhune hue gosht se khana sakht gham k sath rizq mailne par daal he
42khwab dekha k wo khane se bhari handi k neeche aag jala raha he k ghar k sarbarah ki taraf se punhchne wali munfat wale kam se alehda hojaye ga
43kisi ne dekha k aag ne us k baz kapron ko ya badan k kuch hisse ko jala diya to ishara he k us ko un cheezon me museebat punhche gi jinki taraf ye kapre aur badan mansoob hen
44khwab me kisi jaga se aag uthana badshah ki taraf se haram mal milne ki daleel he
45khwab me badshah k darwaze me aag jalana mulk e azeem aur quat milna he
46khwab dekha k is k ghar se aag nikal gai daleel he us ko hukumrani ya nijat mile gi ya hurfat me quat milne ki alamat he
47agar us ki jalai hui aag se mashriq aur maghrib raushan ho gaye to aese ilm milne ki daleel he jis se mashriq o maghrib me us ka tazkra ho ga
48khwab me ghar me aag lagna khushhali ki daleel he
49aese aadmi ne khwab dekha jis ki bivi hamla ho ya us k sar ya us k ghar se aesi aaag nikli jis men roshi aur shuaa he daleel he us ko aesa beta naseeb ho ga jisk zariye wo sardar bane ga ya us ki bivi ki taraf se us ko khushi mile gi
50 kisi ne dekha k wo pahar ki choti par aag jala raha he daleel he k wo allah tala ka qurb hasil kare ga ya us ki tamam zaroriyaat poori hon gi agar apne watan se door ho apne ghar sahi saalim laute ga
51 baz dafa aag bharakna us k barbad hone ka ishara he
52kisi shadi shuda shakhs ne dekha k us k tanoor me aag jal rahi he to uski bivi k hamla hone ki daleel he
53sar se aag nikalna sakht harart ki beemari ya phephron k marz lahaq hone ki daleel he
54khwab me dekha k aag k beech me he aag us ko nahe jala rahi naus ki garmi mehsoos horahi he ishara he wo sidq o addal paye ga yaqeen aur mulk ki daulat se sarfaraz hoga aur daleel he dushmano par ghalba naseeb ho ga
55kisi maqam me aag bujhti hui dekhna us ilaqe me shar aur fitna k dabb jane ki basharat he 56khwab dekha k us k ghar me aag jalai ja rahi he aur us k aehal us se roshnei hasil kar rahe hen aur aaag bujh gai to daleel he us ghar ka sarbarah mare ga 57baaz dafa kisi sheher me aag lagna us sheher k sarbarah ya us k aalim k marne ka ishara he 58bagh k andar aag ka bujh jana sahib e khwaab ya us k ayal me se kisi k marne ki alamat he 59kisi k ghar me aag bujh gai aur hawa us me dakhil hokar us ko raushan kiya daleel he us ghar me chor ghus jayen ge
60khwab me apne bartan k andar aag dalna ya us ko apne liye mehfooz krna haram mal pane ki daleel he 61kabhi aag ki dalalt jinnat par daal he is liye k jinnaat naari makhlooq he 62kabhi uski dalallt badshsh ki tarf se musallat karga taawan kahat or tiddiun k azab ki daleel he 63khawab dekha k tanoor chulhey bhatti ya is jese aag jalai jane wali jaghon me kisi jaga aag jal rahi he to ye maal or ghna naseeb hone ki daleel he khasusan aag k zariye hasil hone wali maeshat khasusan sardi k maosam me ho
64khawab me aag ka gull hona ya bujh jana ya rakh ban jana ya paani barish ki waja se bujh jana usk mohtaaj hone or apne kaam or sanaat k ruk jane par daal he 65kisi ne dekha matkey mashkeze ya kisi aese bartan k andar bolna jo zakor o anaras par dal he daleel he jin chizon un chizon ki dalallat he un par jinnat ka asar hoga or wo jin uski zubani bolay ga 66dard dene wali aag zalim badshah par daal he agar us se logon ko istifada karte dekhe to uski dalallat adil badshah par hogi
67kisi ne dekha kus ne chingari uthai or wo us k hath se nikal gai he or bikhar gai he wo apni ya kisi or ki maslihat ki khatir nahe uthe ga
68sardiyon me aag dekhna baaz dafa phal frout par dalallat karta he is liye k ehley arab ka maqula he "aag sardi ka mewa he"
69kabhi aag dekhna sona chandik bartan me khane par daal he jis me khana haraam he
70kabhi iski dalallat faqr o faqa par kabhi sawal karne par daleel he
71baaz dafa aag bharakti hui dekhna kisi chiz k faot hone ya kisi k marne ki waja se qalb me hejaan paida hone ki daleel he
72kabhi iski dalallt garmi k bukhar par hoti he or kbhi aatish paraston par bhi dalallt karti he iski tabeer noor o zulmat se bhi ki jati he